Fears over Quainton storm damage windmill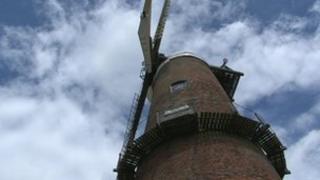 A community in Buckinghamshire fears a windmill it helped restore may not work again because damage would cost £40,000 to repair.
The sails of the 1830s-built mill in Quainton, near Aylesbury, stopped turning last year after a storm struck the area.
The mill produced flour for the first time in 120 years in 1997, after 23 years of restoration by volunteers.
A meeting has been called to gauge interest in its restoration.
Flour from the mill was being sold in the village shop and used in the village pub's kitchen.
Storms in 2011 blew down the fantail, and when volunteers came to replace it they found much more serious problems.
Volunteer John Bitmead said the wood within the mill was old dockwood which was already 200 years old when it was used to build the windmill 180 years ago.
"It's suffered the ravages of time and weather and it's starting to rot out," he added.
He said the dome of the roof would have to be removed by a crane and the mill's frame stripped down and replaced.
The meeting will be held at the windmill at midday on Saturday.