Euro 2012: Milton Keynes teenagers to lead out England team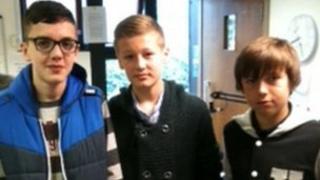 Three teenagers who play football at Milton Keynes Dons will lead the England team out on to the pitch for their first Euro 2012 match.
Aidan Lee Hogg, 14, Ethan Wallbank, 13, and Jay Denniston, 13, all play for MK Dons Unified Football.
The team allows players with and without learning disabilities to play together on the same side.
The boys will be flagbearers at the match against France in Donetsk on Monday.
The Unified Football programme, run by Special Olympics Great Britain, allows players of all ages and abilities to play together on seven-a-side football teams.
The aim is to encourage inclusion and "confound preconceptions and prejudices" about learning disabilities.
Breaking barriers
The three are part of a team of eight from the programme who will travel to the tournament, line up with the team in the tunnel and carry the national flag.
Jason Cornwell, the football manager at Special Olympics GB, said they had been chosen for their commitment to the programme.
"These guys have been breaking down barriers for the past couple of months socially, as well as on the pitch," he said.
"That's the whole idea of unified sports, to bring together two different groups of people, those with learning disabilities and those without, to learn the differences about each other and increase confidence and skills both on and off the pitch."
The boys will travel to the Ukraine for three days and will have "intensive training" on how to carry the flag.
Aidan, who has a learning disability, said: "I can't wait to walk out in front of all the crowds and the players. I might be a bit nervous but going to the Euros will be amazing.
"Getting to walk out on to the pitch to hold the England flag is a dream come true. It'll be something that I never forget."