Servitude trial: Tommy Connors says men 'were paid'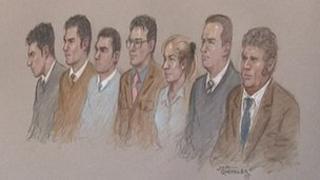 The father of a family of travellers accused of forcing men to work for little or no pay has told a jury the men were paid and were free to leave.
Tommy Connors, 52, said at Luton Crown Court that it was part of traveller lifestyle that workers would come and go from their Bedfordshire site.
Seven Connors family members deny charges of servitude and forced labour.
They were arrested when police raided the Green Acres site near Leighton Buzzard on 11 September 2011.
The other six are: James John Connors, 34; Johnny Connors, 28; Tommy Connors (Jr), 26; James (Jimmy) Connors, 24; Patrick Connors, 20 and Josie Connors, 30.
Mr Connors said "They were paid. If they wanted to leave we would let them leave.
"There was no need to force them to work.
"Some would leave and come back again and some would stay for longer, some for years."
'Perspective and context'
He denied exploiting, threatening or assaulting anyone who stayed at the Green Acres site.
Mr Connors told the jury he was born in Belfast, the seventh generation of a traveller family and the youngest of 19 children.
He admitted he had convictions, including one for false imprisonment in 1999.
The jury has heard that over the past 15 years, Mr Connors and then his children and son-in-law James John Connors, recruited vulnerable adults as workers, on the pretence of offering them paid employment, food and accommodation.
Recruitment would typically take place at centres for the homeless, soup kitchens or on the street, with the men then forced to work without payment, the prosecution said.
Defence counsel Lewis Power QC said the case "hinges on perspective and context".
"One man's meat is another man's poison, one man's trash is another man's treasure and one man's slavery is another man's freedom," he added.
"The events on 11 September 2011 have led to this first effectively quasi-slavery trial in this country for over 200 years."
Judge Michael Kay QC told the jury: "This is not a trial as to the law or culture or practices of Irish travellers.
"It is about the law of this country as it applies to all residents from whatever race, religion or culture."