Bedfordshire buses name and shame offenders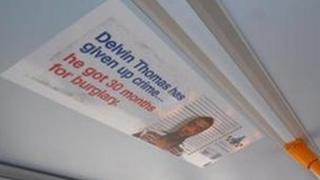 A scheme to put pictures of convicted offenders in Bedfordshire buses has been labelled a "cheap stunt" by the Prison Reform Trust.
The £20,000 advertising campaign by Bedfordshire Police features pictures of those recently jailed for burglary and robbery offences in the county.
Police said they wanted those thinking of committing crime to feel "uncomfortable".
Mark Day from the trust said it could be "very counter productive".
Assistant Chief Constable Andrew Richer said the campaign had been developed to make potential offenders "think twice".
"We aim to put the fear of crime back onto them, instead of the community," he said.
"Seeing pictures of local offenders publicised in this way will make them and their associates feel uncomfortable, but we would rather that than have innocent members of the public feel that they have something to fear."
'Little evidence'
Mr Day said that putting the faces of people on buses was unlikely to deter criminals or help the rehabilitation of those featured.
"There is little evidence, if any, that deterrence is the reason why people don't commit crime," he said.
"It could [also] be counter productive because what it could do is further marginalise these people in the communities to which [those pictured] will ultimately be returning."
He added that what was effective in reducing re-offending was ensuring that people had a job and had the skills in order to get a job when they were released from prison and ensuring that they have a home.
"We should focus on these and not cheap stunts which may look good and look like you are doing something but actually have very little impact and indeed could be very counter productive," he said.
"I just don't think it would be helpful in terms of reducing the likelihood of them leading law abiding lives when they return."
The adverts will run on Arriva buses between June and September as reports of burglary traditionally go up in the summer months.