Knebworth prepares for Red Hot Chilli Peppers concert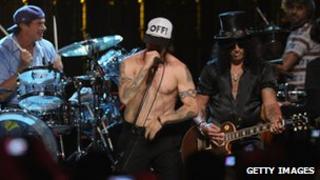 Motorists are being warned about road closures and possible delays ahead of rock concert in Hertfordshire.
Up to 80,000 people are expected to attend the Red Hot Chilli Peppers concert at Knebworth Park on 23 June.
Hertfordshire Police said there will be a number of road closures and signed diversion routes in place.
Supt Simon Hawkins said they were "expecting some delays" and advised residents and concert goers to leave extra time for their journeys.
"We would urge local residents to note which roads would be closed ," he said.
The gates open at 16:00 BST and traffic is expected to be busy in the area from late morning until late afternoon as concert goers arrive, and from 23:00 BST when it finishes.
Promotor Stuart Galbraith asked visitors to get there early.
"While our traffic planning is good, the earlier people arrive, the easier it is for people to accommodate them," he said.
A staffed noise complaint hotline has also been set up by the organisers for enquiries during the event and North Herts District Council will be sending environmental health officers to the show to monitor noise levels.
A spokesperson said it is working alongside other agencies to help organisers ensure the impact on the local community was minimal.
Councillor Bernard Lovewell said: "This is a major event for the area and with that comes a certain amount of disruption."