Bletchley Park prepares to restore codebreaking huts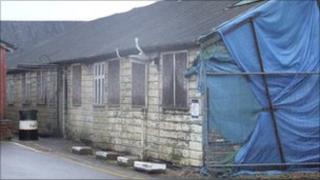 The urgent restoration of World War II buildings at Bletchley Park can now begin, after £2.4m was raised.
Over the past 18 months, donations have come from individuals, trusts, foundations and corporate sponsors, including Google.
The money unlocked a £5m Heritage Lottery Fund grant, which will allow derelict codebreaking huts to be transformed.
A visitor centre and exhibition space will also be created in Block C.
A spokesman said it would be "a permanent tribute to the extraordinary men and women who worked there".
Bletchley Park was the wartime home of the Government Code and Cypher School which broke the German Enigma codes and experts believe the work done at the site may have shortened the war by up to two years.
The mechanisation of codebreaking started in Hut 6 while translation and intelligence work on the messages took place in Hut 3. Block C housed the World War II card index.
However, it was not until wartime information was declassified in the mid-1970s the story of the work done at the centre began to emerge and in the meantime, the buildings had fallen into disrepair.
'Unparalleled milestone'
Chief executive of the Bletchley Park Trust Iain Standen called the completion of the £7.4m funding package "an exciting and unparalleled milestone".
He said: "Raising these funds has not only been a race against time to save the huts from dereliction, but also has been imperative in order to create essential capacity and an improved experience for our ever-rising numbers of visitors.
"We are enormously grateful for the generosity of the Heritage Lottery Fund and other donors for enabling us to start making this vision a reality.
"You can tick along with visitor entrance [fees] to keep you going operationally but to actually do the big capital projects you really do need some big injections of cash from outside."
Work is expected to start in the autumn, but the Bletchley Park Trust will immediately embark on a further fundraising campaign, for approximately £15m for the next phase of the plan to transform it into a world-class heritage and education centre.