Youth jailed for Hemel Hempstead stabbing murder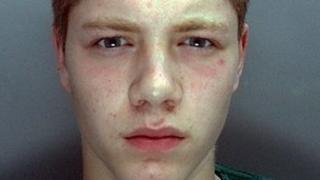 A teenager who stabbed a young mechanic to death in Hertfordshire has been jailed for 14 years.
Billy Dove, 21, had been on a night out in Hemel Hempstead on 5 November when his friends were attacked by Darren McGrath who was brandishing a knife.
Mr Dove tried to punch 17-year-old McGrath but was fatally stabbed.
At the time McGrath, of Essex Mead, Hemel Hempstead, was on a supervision order for stabbing a schoolboy and drug offences.
Hid in flower bed
Mr Dove, who lived with his family in Hemel Hempstead, was out with friends in the town centre on 6 November.
Ian Wade QC, prosecuting, said McGrath was out with his friends Carl Williams, 21, Charlie Samson,18, and Ben Sears, 18, at the time.
McGrath and Samson had taken cocaine and cannabis and were drinking along with Sears and Williams.
When Mr Dove and his friends passed by Sears started a fight and CCTV cameras saw McGrath, Samson and Williams join in.
Mr Dove was seen to go to the rescue of some of his friends who were being attacked.
When McGrath was thrown off balance, the knife hidden in his hooded top fell to the pavement. He picked it up and CCTV cameras recorded Mr Dove trying to tackle him.
A punch thrown by Mr Dove missed and McGrath stabbed him in the chest.
The knife passed between his ribs, entered one lung, the chambers of his heart and then the other lung. He collapsed and died soon afterwards.
McGrath and Sansom fled the scene but were arrested shortly afterwards hiding in a raised flower bed.
Sears was arrested a few days later and Williams was arrested on 21 November.
Williams, of Barnacres Road, Hemel Hempstead, and Samson, of St Agnells Lane, pleaded guilty to affray. They will be sentenced later.
Sears is also to be sentenced at a later date.
A statement from the victim's father Paul was read out in court said: "No parent should ever receive a phone call to say their only son has been murdered."