Olympic torch: Lewis Hamilton to be torchbearer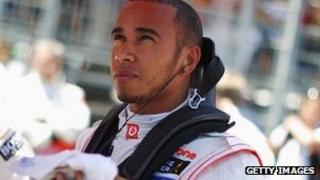 Formula One driver Lewis Hamilton is to carry the Olympic Torch on one leg of its journey across the UK.
He will carry the torch on 9 July when it makes its way from Luton to Oxford, via Milton Keynes and Buckingham.
The 2008 world champion, who grew up in Stevenage in Hertfordshire, said it would be an "incredibly proud moment".
"I'm so honoured to have been asked to do it. Never in a million years did I think I'd get to do something so cool," Hamilton said.
Hamilton was initially asked to carry the torch through his old home town but the plans were changed when it was realised the day the torch visits the Hertfordshire town, he would be competing in the British Grand Prix at Silverstone.
He is one of 8,000 torchbearers taking part in the 70-day journey ahead of the opening of the Games on 27 July.
The McLaren star Hamilton moved away from Stevenage at the end of his debut year in F1 in 2007, and now lives in Monaco.
He said he didn't expect it to head past his old house, saying: "I doubt it will go past there."
Hamilton, 27, said he was looking forward to being involved but said: "I've no idea at this stage where I'll be running.
"But to be selected to do my bit for the town is a real privilege."