Servitude trial: Jury retires in Connors family case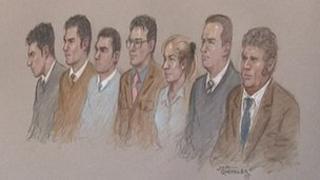 A jury has retired to consider verdicts in the trial of a traveller family accused of forcing vulnerable men to work in Bedfordshire.
Seven members of the Connors family deny they controlled, exploited, verbally abused and beat the men for financial gain at a caravan site.
The trial at Luton Crown Court has heard men were forced to work on the Connors' block paving business.
All seven Connors have denied charges of servitude and forced labour.
The crimes were allegedly carried out first by Tommy Snr, 52, but gradually over the past 15 years also by his children Johnny, 28, James, 24, Josie, 31, Tommy Jnr, 27, and Patrick, 20, and son-in-law James John, 34.
Tommy Snr, James John and Patrick are also charged with assault occasioning actual bodily harm and James John, known as Big Jim, is also charged with battery.
'Warning of murder'
The complainants were allegedly given next to no food, forced to wash in cold water and paid little or no money for working up to 19 hours a day, six days a week.
Prosecutors said the men lived in caravans and sheds deemed unfit for human habitation and spent Sundays doing further work by way of door-to-door selling.
Many of them were alcoholics, drug addicts or had previously been in trouble with the law, and were picked up off the streets, at soup kitchens or in homeless centres.
One told police he had been warned he would be "murdered" if he ever tried to leave, the court heard.
Another said that living at the caravan site was like being in a "concentration camp".
Most of the workers sooner or later managed to escape but remained fearful of being "recaptured", jurors heard.
The case came to light last year after police raided the Green Acres caravan site on 11 September last year.