Man dies in Millbrook Proving Ground test track crash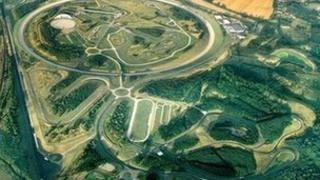 A 47-year-old man has died in a single-car crash at a leading vehicle test track in Bedfordshire.
The man was driving the car, with four passengers inside, on the Millbrook Proving Ground, near Marston Mortaine, at about 11:30 BST when the accident happened.
The driver, from Swindon, Wiltshire, was pronounced dead at the scene.
The passengers, three men and one woman, were taken to Bedford Hospital with various injuries.
The injuries are not life-threatening. Bedfordshire Police said no other vehicle was involved.
Collision investigation officers from the Bedfordshire and Hertfordshire Roads Policing Unit have carried out a full forensic examination of the scene and are being assisted by the Health and Safety Executive.
The Millbrook site is Europe's leading location for the development, test and demonstration of every type of land vehicle including those used by the military.
It is also a regular location for television shows Top Gear and Fifth Gear and featured in the James Bond film, Casino Royale.
Modelled on the Milford Proving Ground, in Michigan, USA, the 700 acre site was constructed in the 1960s by Vauxhall Motors.