Olympic torch relay: Bletchley Park commemorative stamp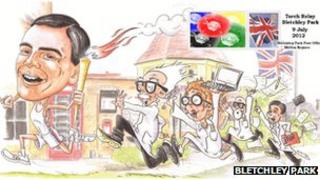 Bletchley Park Post Office is issuing a commemorative postage stamp to mark the visit of the Olympic Torch.
The flame arrives at the home of the World War II codebreakers on 9 July as part of its 10-week relay around the UK.
The 500 copies of the stamp feature a cartoon by Patrick Latham.
It depicts the mathematician and athlete Alan Turing carrying the torch ahead of an entourage of computer scientists.
Turing was key figure at Bletchley Park who worked as part of the team which cracked the Enigma code during World War II and helped create the world's first modern computer.
He was also a gifted athlete who nearly qualified for the 1948 London Olympics.
The Olympic year 2012 is also his centenary year, which is being celebrated with events worldwide.
Bletchley Park Post Office was the codebreakers' mail room during World War II.
The hand prepared stamp and envelope combination with the Bletchley Park postmark will be issued on 9 July.