Olympic winner Harold Abrahams to be unveiled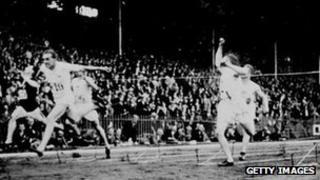 A plaque marking the birthplace of a former Olympian, immortalised in the 1981 film Chariots of Fire, has been unveiled in Bedford.
Harold Abrahams was born in Rutland Road in 1899 and a commemorative sign will be revealed on the house which stands on the site of his birth.
The athlete won the 100m sprint in the 1924 Olympic Games in Paris.
The ceremony took place after the Olympic Torch relay passed through the town on Sunday.
Harold Abrahams won the race ahead of Jackson Scholz of the US and Arthur Porritt of New Zealand in a time of 10.6 seconds.
A broken leg ended his athletic career the following year. He went on to become a sports journalist, broadcaster and president of the Amateur Athletic Association.
Mr Abrahams died in 1978 and is buried at Great Amwell in Hertfordshire.
'Olympic icon'
The heritage plaque contains a Quick Response Code for smartphones, which will give access to biographies of Abrahams' life together with numerous photos and will be unveiled by Allan Wells, the 100m champion at the Moscow Olympic Games in 1980.
Athletics coach Tom McNab, who was the technical director and script advisor for the 1981 film, will conduct the ceremony which will also include live music from Chariots of Fire.
Also due to be present are Abrahams's step-daughter and great nephew, the athletics historian, Mel Watman, and Mark Ryan, the author of Running with Fire a biography of Abrahams' life.
Bedford mayor, Dave Hodgson, called Abrahams "a true Olympic icon and a great Bedfordian".
"The plaque will serve as a reminder of this famous aspect of Bedford's proud Olympic heritage," he said.