John Maber: Paedophile prison officer jailed for life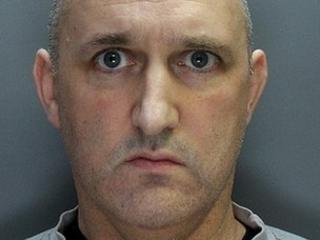 A prison officer from Hertfordshire who shared online footage of his rape of a child has been jailed for life.
John Maber, 47, from Oundle Avenue, Bushey, pleaded guilty at St Albans Crown Court to more than 20 offences including the rape of a baby girl.
Maber, a senior prison officer, was given a life sentence with a minimum term of nine years and 164 days.
A Hertfordshire Police spokesman said he was the "most depraved sex offender" they have ever dealt with.
Maber raped the baby when she was four months old and continued the abuse until she was five.
The court heard how Maber blindfolded, groomed and conditioned the child for sexual abuse.
Shame and revulsion
He pleaded guilty to two counts of rape, six of sexual assault on a child under 13, sexual activity with a child, cruelty, two counts of administrating a substance with intent, common assault, aggravated commission of a child sex offence and engaging in sexual activity with a child.
He also admitted three counts of distributing indecent photographs of a child, two of taking indecent photographs of a child, six of possessing indecent photographs of a child and possessing extreme pornography. He had no previous convictions.
Prosecutor Beverley Cripps said: "He had a hard-wired and deviant interest in the abuse and humiliation of very young girls.
"The record of his abuse is on the internet for perpetuity."
Maber, who worked at London's Pentonville Jail, was caught after police in New Zealand intercepted an offer from him to abuse a child online.
Specialist officers from the Child Exploitation Online Protection Centre (CEOP) were given the information and were able to identify Maber. Hertfordshire Police arrested him at his home on 2 December last year.
Christopher Strachan, defending, said Maber now felt shame and revulsion.
Jailing Maber, Judge Marie Catterson said: "The rape represented abhorrent behaviour of the utmost conceivable gravity, and contrary to every normal human instinct.
"All of this you did for your own perverted sexual gratification, without the slightest regard to the child's welfare."
After sentencing, Det Insp Damien Kennedy of Hertfordshire Police, said: "John Maber was the most prolific and depraved sex offender we have ever dealt with."
"He is a wicked and depraved offender who callously procured the abuse of children for his own gratification."