Catherine Wynter 'killed while babysitting'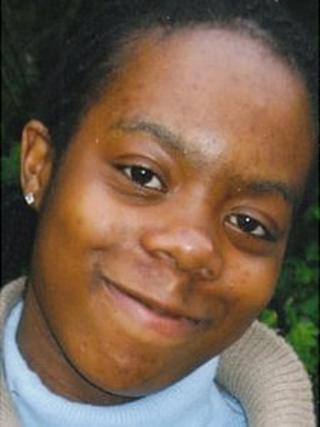 A babysitter found dead in a pool of blood from multiple stab wounds was killed while two young children were in her care, a jury has heard.
Catherine Wynter, 19, was stabbed 13 times in an attack in a house in Beech Drive, Borehamwood, Hertfordshire, on Boxing Day night.
Tony Bushby, 19, of Digswell Close, Borehamwood, denies murder.
The jury at St Albans Crown Court heard the children were in the house at the time of the killing, but were not hurt.
Miss Wynter's mother, Joy Davies, arrived at the house the next morning and noticed blood on the front door, the court was told.
Michael Speak, prosecuting, said: "Those young children had no real comprehension of the appalling nature of what had happened at the house."
Mrs Davies found her daughter in a pool of blood in the kitchen having been stabbed repeatedly in the neck and abdomen.
Phone damaged
The jury heard Miss Wynter, known as Katie, and Mr Bushby were both students at West Hertfordshire College, but Mr Bushby had started working at a Holiday Inn in November.
Mr Bushby, who police said was the teenager's boyfriend although he denied it when questioned, was visited by officers at his home on 27 December.
He said he had spoken to Miss Wynter the previous night as he walked home and she had told him she was babysitting.
The court heard Mr Bushby was taken to a police station for questioning and arrested.
The next day, he asked to speak to officers and told them: "I made a mistake when I told you about my whereabouts. It wasn't true. I was with someone else and they asked me to do a favour and I did."
The police officer stopped him and asked if what he was about to say would get him "into trouble" - and Mr Bushby replied: "Yes".
The court heard Mr Bushby's mobile phone had been damaged on the morning of his arrest.
Mr Speak claimed it was done intentionally by Mr Bushby to get rid of evidence of contact he had with Miss Wynter on the evening of her death.
The trial continues.