Luton peace message painted on Iraq mountain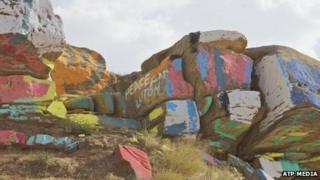 A message of peace for a Bedfordshire town has been painted on the side of a mountain in Iraq.
Luton artist Ben Hodson, 26, and colleague Ian Rowlands, 49, worked with Iraqi artists to write "Peace for Luton" in the Kurdish desert.
It was a re-enactment of a project that was credited with bringing together opposing Kurdish factions and kicking off a peace process.
Mr Hodson hopes his message can have an effect on tensions within Luton.
"The reason for it makes a lot of sense in my head and I'm hoping it makes sense to other people," he said.
"A lot of tensions we are facing in Luton are to do with extremist views and much of that kicked off when the troops came back from Iraq.
"For me the message is 'let's find some common humanity, let's do something beautiful that suggests we can rise above this' and Iraq seemed an obvious choice to use for that symbol."
Hodson and Rowlands first visited Iraq in 2009 where they met fellow artist Ismail Khayat, who they brought back to the UK for a series of exhibitions.
'Positive change'
They returned to Iraq with artwork created in Luton and proposed that they recreate something Khayat had done in 2000, when he painted a peace symbol on a mountainside for an internal Kurdish struggle.
"My research seemed to suggest that this act kicked off a peace process," said Mr Hodson.
"But what I think I had in my mind was a couple of artists and a little bit of paint - what [Khayat] envisaged was a bus full of people, a tonne of paint and a long day in the sun.
"It ended up being painted on a 200m side of a mountain right out in the desert. We did it in one day and it was 40 plus degrees."
Mr Hodson decided to paint the words "Peace for Luton", because he "fundamentally believes that art can positively change the world".
"It's hard to quantify, it's not the answer but it starts a dialogue," he explained.
"With art, a person [looking at it] has more questions," he said.
"[Artists] can tackle really difficult subjects such as women's rights, politics, war and religion in an engaging way that is not necessarily 'preachy'."