Bishop's Stortford cat dies in air rifle shooting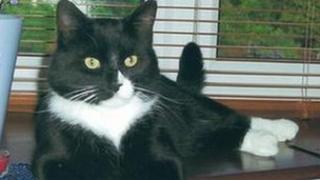 A cat has died after it was shot twice with a suspected air rifle in Hertfordshire.
Police are investigating the "heartless act" after seven-year-old Casper was found injured in his owners' driveway in Bishop's Stortford on Thursday.
The rescue cat was taken to a vet but had to put down.
Owner Lyn Sales said she and her husband felt "totally sick" over Casper's death and urged anyone with information to contact police.
The shooting is believed to have happened in Thorley Park Road or the surrounding area between midday and 16:30 BST on Thursday.
Paralysed
Mrs Sales said: "My husband came home to find him on the driveway, crawling into a bush, dragging his legs behind him.
"We wrapped him in a blanket and took him to the vets."
The vet discovered Casper had been shot twice and one of the pellets had gone through his spinal cord, which caused him to be paralysed.
Mrs Sales added: "We feel totally sick about what's happened.
"We were so sad when we took him to the vets and subsequently having to have him put down.
"But that sadness is now turning to anger, to think that someone can be so cruel to do such a thing.
"He was such a friendly cat and all our neighbours knew him. He was quite big and looked mean but was so soft and gentle."
PC Mark Collins said: "This heartless act has left Casper's owners incredibly distraught and understandably very angry.
"We believe an air rifle, or similar, was used and we are extremely keen to determine who was responsible."