M1 managed motorway goes live in Bedfordshire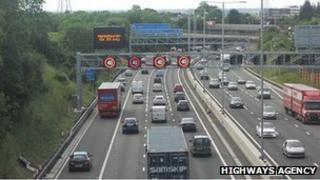 The first section of managed motorway outside the West Midlands, has gone live on a section of the M1 in Bedfordshire.
Variable speed limits will be used on the three-mile section between junctions 10 and 11 near Luton.
The hard shoulder will also be made available to traffic to relieve congestion during peak hours.
The remainder of the scheme between junctions 11 and 13 is due to be completed in spring 2013.
Roads Minister Mike Penning said he was pleased the section had opened "some eight months earlier than planned", ahead of the London 2012 Games.
"It will help to provide additional lane capacity at a time when we expect to see a significant increase in the number of journeys on our roads," he said.
Accidents cut
The scheme had been trialled since 29 June and the Highways Agency is "confident" that all the systems and technology in place are working correctly.
It said drivers should follow the overhead signs and signals and that the hard shoulder should only be driven in when signs indicated so.
The first hard shoulder running scheme was introduced on the M42 J3a-7 in 2006, followed by M6 J4-5 in 2009 and the M6 J8-10A in 2011.
Research published in March 2011 showed that accidents have more than halved since hard shoulder running was introduced on the 10.5-mile stretch of the M42.