Bedfordshire Police issue burns warning over cable thefts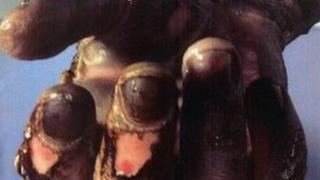 Photographs of the severe injuries suffered by a man who touched live electrical wires have been released by police to deter cable theft.
The 20-year-old man suffered third degree burns to his arms and hands when he touched metal cabling in Luton, Bedfordshire, on Sunday.
He and a 16-year-old are in a specialist burns unit and have been arrested on suspicion of burglary.
Police said the pair had a lucky escape and others should heed the warning.
The 16-year-old received burns to his face and nostrils.
Officers were alerted by a member of the public who saw two males near a disused building at Power Court.
An ambulance was called and the men were taken to Luton and Dunstable Hospital and then Broomfield Hospital in Chelmsford, Essex.
Police have bailed the men pending further inquiries.
Insp Steve Ashdown said: "This incident and the pictures we are releasing illustrate the dangers of tampering with this type of product.
"Even in buildings that appear to be disused you will not know if the main electrical supply has been cut off.
"Both these men had a lucky escape on Sunday and others should heed this warning."