Olympic boat arrives in landlocked Milton Keynes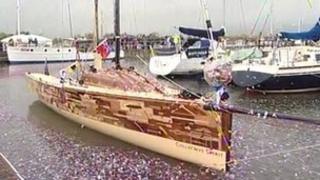 A 30ft boat built from 1,200 pieces of wood, including part of a World War II codebreaking hut at Bletchley Park, has arrived in landlocked Milton Keynes.
The yacht, made from objects of "significance", including those donated by people from the town, was brought up the M1 motorway by trailer.
It was transported into a specially built "harbour" in Queens Court at thecentre:MK by crane.
It is one of 12 public art commissions for the London 2012 Cultural Olympiad.
The boat, named Collective Spirit, was built at Thornham Marina in Hampshire, where collected objects were used to make a seaworthy vessel.
Artists Gregg Whelan and Gary Winters from the Boat Project, visited 20 locations around the UK last year, including Milton Keynes, to collect items.
At the heart of the project were the stories behind the donations.
The boat is in the town as part of the IF Milton Keynes International Festival, a 10-day event featuring work from artists around the world.
Olympic theme
It is moored in the shopping centre courtyard, where visitors can hear some of the music and stories connected to it.
The boat's parts include a cherry tree from monks at the Peace Pagoda, a sign from pupils at River Meadow pre-school in Newport Pagnell and a piece of floorboard from one of the huts at the Enigma code-breaking station, Bletchley Park.
Mr Winters said one item had an Olympics connection.
"One of the pieces brought to us in Milton Keynes last year was part of a bus built in 1939 that was used to transport people around the London Games in 1948, so it has got a nice link for us being part of the Cultural Olympiad for 2012," he said.
Alison Fordham from the festival called the boat "incredible".
"It's not like an ordinary boat, it's almost like a piece of old furniture, almost like a jigsaw, it's very, very beautiful and as soon as you see it you want to go up and touch it because it looks so textured and amazing," she said.
"Come and see it up close as we have brought the boat inland, most people who have seen it will have seen it in the water and you miss some of the decoration so we are quite lucky really."
The yacht will be taken to the sailing venue in Weymouth and Portland, Dorset, in time for the Games.