Henry Moore sculpture stolen in Hertfordshire is found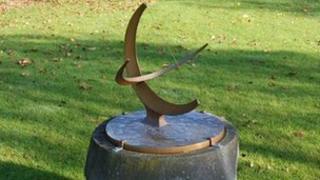 Police have recovered a bronze sculpture by Henry Moore, valued at up to £500,000, which had been stolen from the grounds of a Hertfordshire museum.
The Sundial, 1965, was taken from The Henry Moore Foundation in Much Hadham on 10 July.
It was found following an appeal by Hertfordshire Police on BBC One's Crimewatch programme.
Two 22-year-old men and a 19-year old man, all from Stansted, Essex, have been arrested on suspicion of theft.
A bronze plinth which had been taken from the Henry Moore Foundation on 15 July was also recovered following information provided by a member of the public.
Lesley Wake, from the foundation, said: "[We are] thrilled about the return of Working Model for Sundial.
"We hope the successful outcome of this investigation will help to stimulate interest in Moore's Reclining Figure which was taken from the Foundation in 2005.
"The reward of up to £100,000 is still available for information relating to the recovery of this sculpture."