Babysitter Katie Wynter murder: Facebook lies lured in victim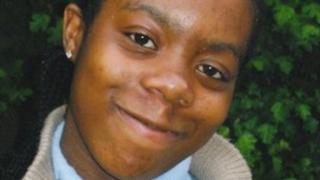 It was an elaborate web of lies spun over the internet that saw church-going babysitter Katie Wynter lured in by her killer.
As he worked to gain the trust of the shy art student, Tony Bushby invented a series of fictitious characters using social networking site Facebook.
Bushby, 19, "manipulated" the false identities in a ruse to contact Miss Wynter and "get her to like him".
After killing her in a brutal attack on Boxing Day last year, he even blamed the murder on one of the invented characters.
Miss Wynter, 19, who was looking after two young children at her sister's house, in Borehamwood, Hertfordshire, was stabbed 13 times.
'Secret' relationship
The trial at St Albans Crown Court exposed the dangers of online relationships.
Those who knew Ms Wynter saw a family girl and dedicated student who attended the West Herts College, in Watford.
Bushby was said to be a non-violent karate black belt who had studied the sport from boyhood.
Although the pair were at college at the same time, it was over the internet that their "secret" relationship blossomed.
The pair met in secluded areas, arranged via the internet - often in a park but always away from prying eyes.
Ms Wynter's close family and friends suspected she had a boyfriend but knew very little else.
Kien Minh Voong, who studied with Katie, said her friend quickly fell in love with Bushby after the pair met on Facebook.
A second college friend, Jasmine Mandata, said Miss Wynter was shy about the "secretive" relationship and rarely discussed it.
To her college tutors, Miss Wynter was a hard-working, model student.
"She was polite and a pleasure to teach," said Emma Duree, a director at West Herts College.
Double-life
Friends spoke of Miss Wynter's shy nature, describing how she regularly attended church and babysat for her sister's children, and did not drink or go out partying.
Childhood friend Sheridan Skinner said: "She was a lovely girl and, in the whole time I knew her, we never argued."
Following her murder, police soon realised they were dealing with a "Walter Mitty" character and followed the trail of Bushby's make-believe double life.
On the day he was arrested, he denied knowing Miss Wynter.
Prosecutor Michael Speak accused Bushby of using a laptop computer and wireless network to create Hotmail email and Facebook accounts for Dan Tress, Cynthia Darwin, Shane Pleuon and Krystal Stanguard.
Police were able to find out from the Microsoft email provider that they were all created on an IP address that was unique to Bushby's internet network.
All four identities were made up.
'Never aggressive'
When police found Miss Wynter's blood on his door, Bushby said it had come from gloves he had received from Mr Tress, who he accused of committing the crime.
"Dan Tress" was never found, the trial heard, despite Bushby's whole defence resting on him.
After the murder, Bushby used the internet search engine Google to seek information on how to "permanently delete a Facebook account" and how long it would take to dig a human grave.
No obvious motive was ever presented for the killing.
Those who knew Bushby said he had never shown any hint of violence.
Michael Hollingbery, the owner of Orca Kai Karate Club in Borehamwood, who taught Bushby, said he was "astounded" when he heard his former student had been charged.
"I saw him turn from a boy into a man," said Mr Hollingbery. "He had a passion for karate which came from his heart.
"He was never aggressive or violent, and I was astounded when I found out. I just this thought 'this is the wrong character'."