Girl, 10, mauled by dog in Houghton Regis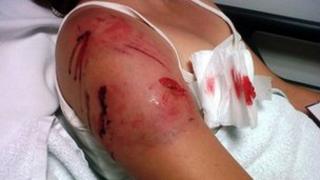 A girl was seriously hurt when she was mauled by a dog which clamped on to her arm and dragged her to the ground.
The 10-year-old girl was with her sister and a friend in Houghton Regis, Bedfordshire, on Sunday, when a dog mauled her, police said.
She was left with severe wounds to her arms and grazes to her legs.
The dog's owner, described as a skinny man in his mid-20s, was wearing a white tracksuit and white cap. He pulled the dog away then fled.
Officers are seeking him and any witnesses to the "terrifying" attack, which happened as the girls walked past a Nisa store in Hillborough Crescent at about 15:40 BST.
'Really nasty injuries'
The dog, which police believe was a Rottweiler, started barking and then leapt at the girl, clamping on to her arm and dragging her to the ground.
She was taken home by the other girls and then to Luton and Dunstable Hospital for treatment.
PC Matt Garfitt said: "This was a terrifying attack on a young girl who was looking forward to enjoying the summer holidays with her siblings and friends.
"Instead, she has ended up with some really nasty injuries and has been left distraught by the whole incident.
"It is extremely important that we locate the owner of this dog and stop him from allowing the animal to cause further harm to anyone."