Laura Trott street party approved using 1847 law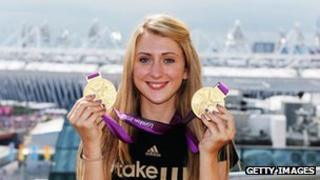 A Victorian act of parliament has been used to give speedy permission to the family of Olympic cyclist Laura Trott to hold a street party in her honour.
The double gold medallist's family, of Cheshunt, Hertfordshire, approached the local council to ask what they needed to do to stage the event.
Broxbourne Council warned them it could take weeks for permission to be given.
But then the council found it could use the 1847 Town Police Clauses Act, which allows "thronging on the highway".
The Trott family had approached the authority, explaining they had a "tight time frame" for the event for family, friends and neighbours to celebrate the achievements of the 20-year-old cyclist, who won the women's team pursuit and the omnium at the Games.
Broxbourne Borough Council spoke to Hertfordshire County Council, which said the usual road closure procedure could take weeks because a written application to its highways team was needed.
Hertfordshire Council then suggested Broxbourne Council should invoke the 1847 act, which does not require such a long notice period, and permission for the party was granted within 48 hours.
The act is normally used for town centre events, does not allow permanent closure and requires access for emergency vehicles, but can be granted as long as "reasonable notice is given".
Broxbourne councillor Paul Mason said: "The red tape process was quite long, so we were asked to intervene under powers that we had. It was a definite 'yes'.
"We reacted within hours."
Trott's father Adrian said he was very happy with the way things had gone and that preparations were under way for the party.
"Everything is complete now and we are ready to roll," he said.
Mr Mason also said the council was reviewing options for a fitting tribute to the athlete, which include building a cycle bridge over the railway or renaming either a street or the leisure centre she used to use.
"Laura is a tremendous role model and has done an absolutely fantastic job," he said.
"It was a great achievement and we are really proud of her."