Laura Trott given street party for Olympic gold medals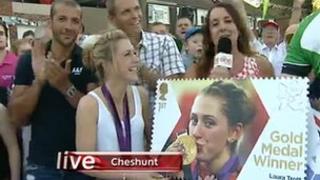 At least 200 people attended a private street party to welcome double Olympic gold medal-winning cyclist Laura Trott back to her Hertfordshire home.
Her family arranged the celebration in Cheshunt after a Victorian act of parliament was used to give them speedy permission.
Trott, 20, said: "It's amazing, I'm so glad so many people came out. It's mad, I can't believe it."
She won two golds, in the omnium and team pursuit, at London 2012.
Trott's father Adrian said: "It's nearly a week since the closing ceremony and the buzz is still here."
The family approached Broxbourne Council to ask what they needed to do to stage the event but were warned it could take weeks for permission to be given.
'Very supportive'
But then the council found it could use the 1847 Town Police Clauses Act, which allows "thronging on the highway" and permission was given within 48 hours.
Neighbours in Bellamy Way and the council had put flags and bunting up in the street since her victories.
Mr Trott said the family wanted to hold the private party to thank all those who had helped his daughter over the years.
"Family, friends and neighbours have been very supportive of her, not just for the [Olympic] fortnight but they have also had to put up with late night and early morning comings and goings."
Broxbourne Borough Council is reviewing options for a formal tribute to the athlete, which include building a cycle bridge over the railway or renaming either a street or the leisure centre she used to use.
Mr Trott said: "I like the idea of the sports centre, I'm not so sure about renaming a street. That's something I associate with Churchill or Mandela, people who warrant that sort of adulation."