Milton Keynes shopping centre extension 'would divide town'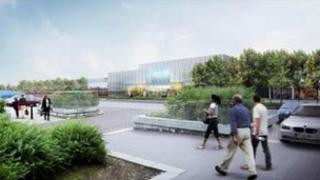 Plans to remove a bridge in Buckinghamshire to make way for a £40m Primark would "cut the heart of the town," campaigners have said.
The proposal, submitted by thecentre:mk in Milton Keynes, is to extend the shopping complex by 90,000 sq ft and remove Secklow Gate road bridge.
An application was submitted to Milton Keynes Council on Monday following a public consultation.
But opponents have said getting rid of the road bridge would divide the town.
'Ideal location'
The market currently underneath Secklow Gate bridge would also be moved to another location.
The town council and residents have said the bridge connects the north and the south of the town.
Chair of Milton Keynes Town Council Dr Rebecca Kurt said: "The residents who I represent see the plans as cutting the heart of the town in half.
"People recognise that the grid-road system has been a critical factor in the success of the town centre to date."
Milton Keynes Town Council said there were at least four alternative locations where the extension could be built.
Dr Kurt added: "Primark would be a great addition to Milton Keynes but the current proposal is not the right location.
"The most obvious location is the food centre which thecentre:mk already own."
The plans, which will also create a further 17,500 sq ft retail unit and an improved market site, involve the removal of the southern section of the bridge.
Melanie Beck, from thecentre:mk, said: "The units we currently provide are not big enough to house Primark.
"Within it's local plan, Milton Keynes Council has identified this area for redevelopment and the plans also suggest that the bridge could be removed.
"This is the ideal location for us to build an extension."
Built during the 1970s, thecentre:mk currently has more than 230 stores trading under one roof.
It is jointly owned by two UK property management companies, Hermes Property Asset Management Ltd and Prudential Property Investment Managers Ltd who are financing the project.
The company said it expects a response from the council by the end of 2012.