Greg Rutherford returns to Milton Keynes athletics club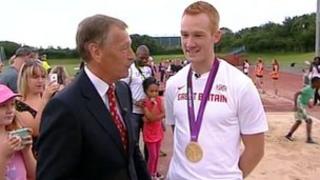 Greg Rutherford has returned to his athletics club to share long jump tips and talk about his experience at the Olympics.
Rutherford, from Woburn Sands, earned the gold medal in the Olympic Stadium with a jump of 8.31m.
Returning to Milton Keynes Athletics Club, he spoke to youngsters as they tried the sport.
He said: "My major hope is that all these guys want to be excited about athletics, and sport in general."
He thanked his club for its support and said he hoped his success would lead to an influx of new athletes.
"To come home and to have everyone excited, it's so nice," he said.
"I understand it's not every day people win Olympic gold medals and I'm happy to share it with everybody."
'Truly inspirational'
Hannah Bladen, from Sport England, said she was certain Rutherford's achievement would inspire local people.
She said a £150m fund had been put in place to build on the legacy of the Olympics.
"We're here to see a gold medallist," she said. "Hundreds of young people have turned out - it's truly inspirational."
Mayor of Milton Keynes Catriona Morris said a civic reception would be held after the Paralympics.
"We had always intended to hold a civic celebration after the Paralympics for all our local athletes, coaches, gamesmakers, volunteers and everyone involved in making the Olympics and Paralympics so special.
"We have set aside a date in the calendar for the civic celebrations and we will be releasing the details of these very shortly."