Royal Buckinghamshire Hospital consultation extended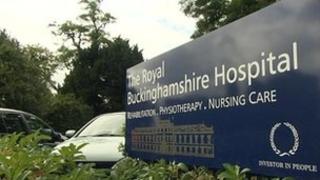 A consultation period with staff has been extended by two weeks at a Buckinghamshire hospital threatened with closure and the loss of 100 jobs.
The Royal Buckinghamshire Hospital in Aylesbury is set to close due its "serious financial situation".
Some staff have told the BBC they have already left, without taking redundancy, to find other work.
The private sector hospital said the period would now end in mid September due to staff holidays and absences.
It began on 3 August and was meant to last 30 days.
Earlier this month, members of staff said they had not been paid in full for the month of July.
It is understood that any outstanding payments have now been made.
The hospital opened in the 1830s on a design by Florence Nightingale and was later a maternity unit before becoming a private hospital in the 1990s.
Now a specialist spinal injury and rehabilitation centre, it describes itself as the only independent unit of its kind in the UK.