George Evans jailed for drug dealing and money laundering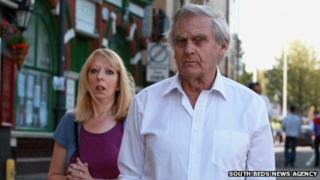 A great-grandfather has been jailed for 18 years after he was found guilty of drug dealing and money laundering.
George Evans, 76, of High Road, Beeston, Bedfordshire, was jailed along with his wife Anne at Luton Crown Court.
Mr Evans was sentenced to 18 years for conspiracy to supply cocaine and 18 months for money laundering. The sentences are to run concurrently.
Mrs Evans, 55, was sentenced to 18 months for money laundering.
The couple lived in a £410,000 home bought with cash and owned Rolls Royce and Jaguar cars.
'Evil trade'
But when the pair were stopped in a Ford Ranger truck in France in 2009, police found 29kg (63lbs) of cocaine inside specially-hollowed roof bars.
It would have had a street value of about £3m, the court heard.
Bedfordshire Police were told of the French drug haul and began a covert investigation into the Evans's affairs.
Police found the couple had bought their house although neither had a declared income other than state benefits.
Judge Barbara Mensah said: "Drug dealing is an evil trade and sentences have to be a warning that those who get involved will get heavy sentences.
"People should not think that if they take up drug dealing in their autumn years, judges will give them soft sentences."
Ben Gumpert, prosecuting, told the court Mr Evans, a welder, had constructed the false compartments.
'Glamorous lifestyle'
He said after the drugs were seized Mr Evans had been kidnapped, beaten, subjected to electric shocks and had a hole drilled into his foot.
He was dumped in Marston Moretaine two days later.
He added: "The loss of £1m worth of drugs is likely to have led to a substantial falling out with the people who are the losers. George Evans was getting the blame."
Mrs Evans had contacted the police to tell them her husband was missing.
When police searched an outhouse at their home, they found 5kg (11lbs) of Benzocain - a substance used to bulk out cocaine, the court heard.
At Mr Evans' workshop police found a further 18kg (40lbs) of Benzocaine. They also discovered a Mercedes Sprinter van with specially concealed cavities.
Mr Gumpert said: "It is quite clear George Evans was converting the Mercedes to make it a smuggling vehicle to replace the Ford Ranger. He had been deprived of his drugs and the tools of his trade."
The Evans's house will be made the subject of a proceeds of crime hearing in December.
Det Ch Insp Shane Roberts said: "He lived a glamorous lifestyle: trips abroad, personal airplanes, expensive cars, a big house; it was all there.
"His wife enjoyed the trappings of the good life as much as he did."