Mehar Dhariwal: Bedford taxi driver in 'wild' attack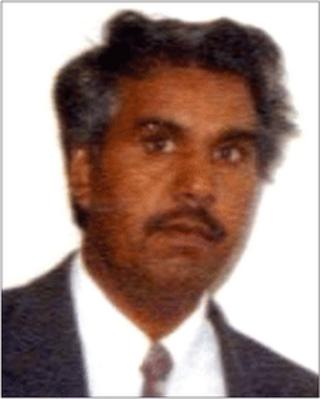 The killer of a 61-year-old taxi driver from Bedford was "like a wild animal" when he attacked, a jury has heard.
Mehar Dhariwal, of Kempston, was kicked and punched to the taxi office floor by Daniel Rogers after being asked to pay for his fare in advance.
Mr Rogers, 27, of The Cloisters, Bedford, denies murder but has admitted the manslaughter of Mr Dhariwal.
The driver died a week later, in January, after collapsing at home, Luton Crown Court has heard.
Christine Clegg, a controller at AGS taxis in St Peter's Street, Bedford, told the court Mr Rogers barged into their office.
She said: "He came storming through the door. He started punching him around the head and body.
"It was nasty. He was really going for it. Mr Dhariwal ended up on the floor.
"Then he started kicking him. He just kept kicking him, to the chest mainly. I have never seen anything like it."
Miss Clegg, who has worked for the company for 30 years, cried as she told the jury: "He was like a wild animal. He picked a chair up and smashed it down on him."
Mr Dhariwal, a former bus driver, went to hospital after the attack and was discharged. He did not tell his family of the attack, saying he had been involved in a car accident, the court heard.
Five days later he collapsed at his Kempston home while with his daughters-in-law and never regained consciousness. The cause of death was bleeding on the brain.
Prosecuting, Sarah Gaunt read the jury a statement from Mr Dhariwal before he died.
He said Mr Rogers had told him: "I ain't gonna pay you - what are you going to do about it?"
It went on: "I felt a kick to my lower back with so much force as I fell to the floor. He kicked and punched me in the head, chest and back.
"I felt very scared and frightened. I came to work to earn money for my family and did not expect to be attacked."
The trial continues.