'Struggling' Woburn Lido considers year-round opening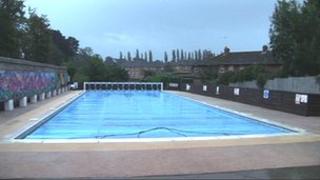 An outdoor swimming pool in Bedfordshire could stay open all year for the first time to make ends meet.
The volunteer-run Woburn Lido was built by the 11th Duke of Bedford in 1911 for Woburn Abbey estate workers.
Open from May to August on a not-for-profit basis, it is usually well-used but struggles during bad weather.
It may now be opened during the other months for triathletes and others who could make use of cold water to make it sustainable.
The committee running the facility said it thought it might have to close during summer 2012, so it wanted to ensure it will not be in that position again.
Chairman Elfyn Groves said: "The bad weather this summer has made us very twitchy about how we keep the pool going.
"Our income is exceeded by our expenditure and we only keep going because of the grants that we get from the parish council and others.
'Big expense'
"I would like people who have never been involved with the swimming pool before to pick the cudgel up and hopefully we will get into a regular scheme of fundraising and operating more efficiently."
Volunteers have already arranged for the indoor area to be used throughout the winter as a "wellness hub" organised by fitness trainer Ray Sutton.
The pool will not be heated as normal so he is looking for people who could use the cold water and aims to find triathletes to use it from February 2013 after refurbishment.
"We usually only have three months to get enough income in to go through the whole year," said Mr Sutton.
"It's quite an expense opening it up and closing it down so if we can keep it ticking along with people using it, we won't have that big expense."