Mehar Dhariwal: Killer Daniel Rogers had 'no control'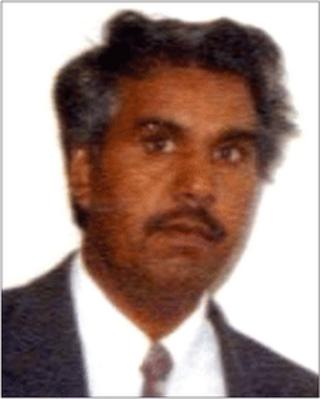 The man accused of murdering a Bedford taxi driver in a row over an advance fare said he had "no control" over what he was doing, a jury has heard.
Mehar Dhariwal, 61, of Kempston, was kicked and punched in a taxi office by Daniel Rogers. He died a week later.
Mr Rogers, 27, of The Cloisters, Bedford, denies murder but has admitted the manslaughter of Mr Dhariwal.
He told Luton Crown Court on Wednesday he had a personality disorder which caused "unreasonable" behaviour.
The jury heard he had Tourette's syndrome, attention deficit disorder, obsessive compulsive disorder, and problems with authority figures.
"I lose it, I can't control it and lash out. It is impulsive," he said.
The court heard he was drunk when he asked for a taxi to his mother's house in Thurleigh, about seven miles north of Bedford, at 05:00 GMT on 22 January.
He had had a "stupid argument" with his girlfriend over the changing of their baby's nappy on 21 January, after which he had spent the day drinking and playing pool.
'Silly scrap'
Mr Rogers said he refused to pay the advance fare and "felt annoyed that he [Mr Dhariwal] thought I was going to do a runner".
The men argued, during which an "Asian man standing behind behind Mr Dhariwal" had hit him and sworn at him to leave.
The jury heard the "enraged" Mr Rogers barged the taxi office door to get to the man, and that Mr Dhariwal had been stopping him getting through.
"I might have been lashing out," he said.
"We ended up on the floor, grappling. I punched him but don't know how many times. I had no control over what I was doing."
He added: "It was a mist.
"It was a silly scrap and I did not realise the enormity of it."
In answer to questions he said he had not intended to cause serious harm.
The trial continues.