Etienne Stott has Bedford white water arena named after him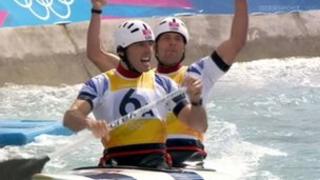 Bedford's Olympic champion, Etienne Stott, is to have a white water arena in the town named after him.
The Duckmill Weir White Water Arena will be unveiled as the Etienne Stott White Water Arena after a parade to welcome him back on Saturday.
The Viking Kayak Club athlete won gold in the C2 canoe slalom at the 2012 Olympic Games.
The gold medallist called it an "amazing gesture" and thanked the people of Bedford.
The Duckmill Weir White Water Arena on the River Great Ouse in Bedford opened in May 2012 after permanent slalom uprights, lines and gates were added to the Duck Mill weir.
It is a short distance from the town's Viking Kayak Club where Stott spent many hours canoeing and training as a young man.
'Permanent gesture'
He said it was a great facility for the club and the town itself and it was "very humbling" to have it named after him.
"It is a great honour because it is a permanent gesture," he said. "It is very nice because it is such an appropriate venue as it links to the sport - for me a road or a roundabout wouldn't be the same.
"It's a five minute paddle from the club and so is a handy venue to act on the legacy from the London Olympics."
The council said renaming the facility would "ensure a legacy" for Stott's achievements.
Councillor Doug McMurdo said: "We hope it will inspire the next generation of athletes and competitors in Bedford."
The Olympic celebration on Saturday 29 September will start from De Parys Avenue at 13:00 BST and travel down the High Street and along the Embankment, finishing at the Duck Mill weir site for the unveiling.
Etienne Stott will be joined in the parade by Gamesmakers, torchbearers and those involved in pre-games training camps in the borough.