Jimmy Savile cafe renamed at Stoke Mandeville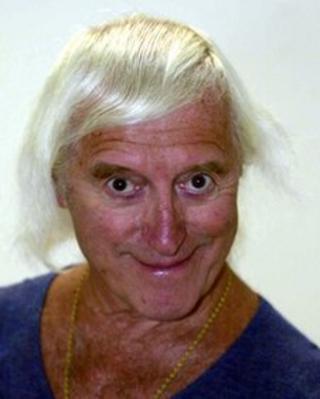 A hospital cafe called "Jimmy's" after Jimmy Savile will be given a new name, it has been confirmed.
The cafe at Stoke Mandeville Hospital in Aylesbury was opened by Savile in 2005 following his years of fundraising for the spinal injuries unit.
Volunteering charity WRVS, which runs Jimmy's, said it had agreed with the hospital to rename it Cafe@WRVS.
Police believe Savile, who died in October 2011 aged 84, may have sexually abused 60 people since 1959.
WRVS told the BBC last week it was considering a name change in the wake of the scandal, which has included at least one alleged assault at Stoke Mandeville.
'Tongue down throat'
Savile worked there as a volunteer porter from 1969 and began his charity work for the hospital three years later.
David McCullough, chief executive at WRVS, said: "WRVS and Stoke Mandeville Hospital have agreed that Jimmy's Cafe will be renamed Cafe@WRVS, aligning it with other WRVS cafes across the country."
A spokeswoman added it would change the sign, which is white neon and in the shape of Savile's signature, "as soon as possible".
The decision was made after allegations made by Caroline Moore, now 53, that Savile sexually assaulted her in a Stoke Mandeville corridor in 1971, when she was a 13-year-old patient.
"He rammed his tongue down my throat... and walked off," said Ms Moore, of Clarkston, near Glasgow.
She added her parents did not believe her because of the broadcaster's profile.
'Shocked and saddened'
Retired Thames Valley detective John Lindsay, 71, also raised concerns about Savile abusing girls at Stoke Mandeville but said they were dismissed.
When Mr Lindsay reported the matter he was told by a senior colleague not to worry and that Savile "must be OK", he said.
In a statement, Buckinghamshire Healthcare NHS Trust said it had been shocked and saddened to hear of the "very serious allegations".
"We have no record of any complaints of this nature and would have taken swift and decisive action if this had formally been raised with us," it said.
"We continue to cooperate fully with the police in their inquiries and have met with them to discuss their review."
It added that it would discuss the possibility of carrying out its own internal inquiry once the police findings were available.