Mia Elcock inquest: Heart 'looked normal'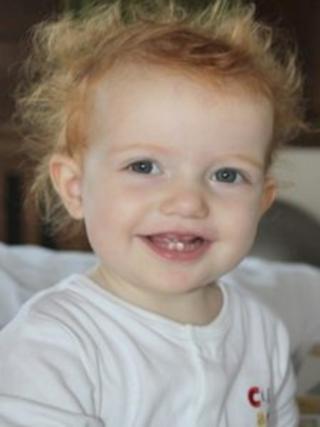 A toddler who died of a heart condition after being diagnosed with a chest infection had a heart which "looked normal", an inquest has heard.
Mia Elcock, one, from Little Horwood, died in October 2011 after being taken to hospital with breathing problems.
The inquest has heard an "extremely rare" heart condition was found during a post-mortem examination.
She was admitted to the Milton Keynes paediatric unit because A&E had been closed as a result of flooding.
A chest x-ray showed she had pneumonia, so she was given oxygen and saline but suffered a cardiac arrest and died at 03:29 BST on 24 October, the day after her admission.
Consultant radiologist Dr Prudence Evans told the hearing on Tuesday that Mia's heart "looked normal".
Heart monitor
Dr Stephen Rose, a consultant paediatrician at Birmingham Heartlands Hospital, also gave evidence and said there was no indication the toddler had a problem with her heart.
Mia was put on the high dependency pathway for patients who need close observation and the inquest was told usually every high dependency child is on a cardiac monitor.
When questioned about whether Mia was on a heart monitor Amisha Mistry, one of the nurses treating her in hospital, said "not that I can remember".
The hearing was also told an on-call consultant needs to be notified when a patient is put on the pathway but Dr Prem Kumar Roy, the on call consultant paediatrician, said he was not told.
The hospital has said it would comment until after the verdict is recorded.
The hearing continues.