Bedfordshire PCC candidate Saundra Glenn misses deadline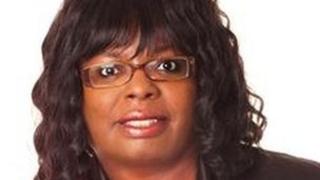 A prospective candidate for Bedfordshire's police and crime commissioner role missed the deadline for standing by 10 minutes.
Independent Saundra Glenn, from Luton, said she arrived at the town hall ahead of Friday's noon cut off.
But she had to wait for her backer to arrive with the £5,000 cash deposit required to officially register.
Ms Glenn said if she had been able to use a debit card she would have been able to register on time.
"[The council] chose not to accept electronic transfer," she said.
"But if I could have used it, it would have made a difference."
'11th hour'
Ms Glenn said she had collected the 100 nominee signatures required, which had already undergone an informal check by the council.
However, after being let down by her first funder on Friday morning, she was waiting at the town hall for a second backer who stepped in at the "11th hour".
This person was delayed waiting for a banker's draft and did not arrive until about 12:10 BST when Ms Glenn was told that nothing more could be done.
"Everybody was tearful," she said.
"I am broken-hearted for all the people who believed in me.
"I'm really gutted because I was gaining momentum, I'm just an ordinary girl who wanted the chance to improve the lives of the people who live here."
Ms Glenn, who has worked in corporate business and the volunteer sector, was also an Independent Advisory Group Member (IAG) for Bedfordshire Police.
"I care about policing, and I'd like to find another way to serve" she said.
She said she had approached the Home Office about whether there was an appeal process and was waiting to hear back.
'Strict rules'
A spokesperson for Luton Borough Council said it understood Ms Glenn's disappointment and was sympathetic but "elections are run under a strict set of rules".
"To avoid any error or doubt, candidates were provided with a brief on these rules, alongside Electoral Commission guidelines, to ensure the process was open, transparent and easily engaged with," a statement read.
It said candidates and agents were told the acceptable methods of payment at a briefing on 28 September and they were published on the website.
Candidates for the Bedfordshire police and crime commissioner role are Kevin Carroll (British Freedom Party), Linda Jack (Liberal Democrats), Olly Martins (Labour), Jas Parmar (Conservative) and Mezanur Rashid (Independent).
The election will take place on 15 November.