Fishermead shooting: 'Drugs turf' row alleged motive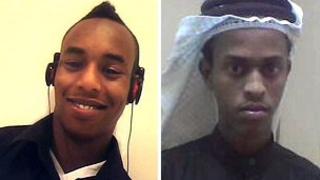 Two teenagers were fatally shot in an alleyway in Milton Keynes in a row over "drugs turf", a court has heard.
Mohammed Abdi Farah, 19, and Amin Ahmed Ismail, 18, were shot in a row on the Fishermead Estate in May last year.
Fuad Awale, 25, of no fixed address; Sharmake Abdulkadir, 22, of Milton Keynes; and Yahya Harun, 22, of Milton Keynes; all deny murder.
Prosecutors at Luton Crown Court said the three were part of a gang of five, two of whom were not in court.
'Free cannabis'
Two shots rang out in the alley just before 22:00 BST on 26 May, 2011, the court heard.
The prosecution said a witness would say that Mr Ismail had been handing out free cannabis from a stash owned by Mr Abdulkadir.
Mr Farah died at the scene and Mr Ismail was pronounced dead in hospital after attempts to save his life failed.
The three accused men, and the victims, were all of Somali origin.
Prosecutor Ben Gumpert said it was likely that the three defendants knew the victims and were part of a group of five, two of whom were not before the court.
'Changed clothing'
He said Mr Abdulkadir and Mr Awale had travelled to Holland to collect a gun, and all three defendants were recorded on CCTV near the location of the shooting.
Mr Awale had changed his clothing to a dark puffy jacket with a hood, and minutes before the shooting the three defendants and the other men were seen at the entrance to the alleyway, the court was told.
The same group were also seen arguing with the victims and by other witnesses leaving the scene.
After the first two shots were fired the group were seen near a school gate.
Mr Harun told his mother in a telephone call he had been present when the victims were shot. In a prison visit Mr Abdulkadir is alleged to have told his mother he too was there.
Evidence was given that Mr Abdulkadir's DNA was found on the surface of a Belgian automatic pistol.
The case continues.