Illegal rave at Weston Underwood near Olney attracts 1,000 people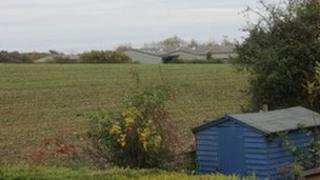 About 1,000 attended an illegal rave in a barn in Buckinghamshire which went on until Sunday afternoon.
It took place at a farm in between Weston Underwood and Ravenstone, near Olney.
Thames Valley Police said they were alerted just before 01:00 BST and their operation aimed to prevent more people attending.
People living nearby said they were kept awake all night by noise, fireworks and traffic.
Christopher Fry, 57, who lives in Ravenstone about 200 yards (180m) from the farm buildings, said they were woken in the early hours.
'Buildings hijacked'
"It got round to around 04:00 GMT and there was a massive amount of fireworks going off, flashing lights across the field and loud music thumping all morning and into the afternoon and we've had very little sleep.
"The road was strewn with litter and ravers in various states of stupor.
"The farm is rented out, but it looked like the locked gate had been taken off its hinges and I think the buildings have been hijacked."
Thames Valley Police said they spoke to organisers who promised them the site would be vacated by 15:00 GMT.
Supt Barry Halliday, from Thames Valley Police, said: "As soon as we became aware of the rave, together with our colleagues from Northamptonshire Police, we responded promptly with a significant number of officers to ensure those numbers [of people attending] did not increase.
"We are currently seeking to identify and work with the landowners.
"The police do not consider this type of activity to be acceptable and it has caused a lot of concern among local residents, with considerable traffic and parking issues."