Colonel Riley Workman murder: Former gamekeeper guilty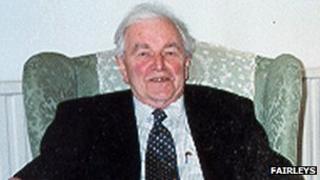 A former gamekeeper has been found guilty of the murder of a retired colonel in Hertfordshire.
Christopher Docherty-Puncheon denied shooting Lt Col Robert "Riley" Workman at his Furneux Pelham home in 2004 but was convicted by a majority verdict.
The five-week trial at St Albans Crown Court heard the 33-year-old confessed to the killing to cell mates while on remand for another murder.
He must serve a minimum of a further 32 years in prison.
Point blank range
Prosecutors said Docherty-Puncheon had described himself to two other cell mates as a "modern-day hitman" who killed people for money and had had an affair with Lt Col Workman.
The 83-year-old, who served in World War II, was in his pyjamas and drinking whisky alone in his cottage on the night of his death.
It is believed he answered the door in the evening - at a time when gunfire was heard by neighbours - and was shot at point blank range on his doorstep.
Prosecutor Richard Latham QC said the weeks and months that followed the killing were like something out of ITV drama Midsomer Murders.
Docherty-Puncheon, then aged 24 and called Christopher Nudds, had worked for Lt Col Workman as a pest controller and was questioned by police within hours of the killing.
With no evidence, he was released without charge.
Cell confession
His motive for shooting Lt Col Workman remains unclear, although the jury heard it was believed the war veteran knew Docherty-Puncheon's friend Fred Moss was involved in drugs.
Months after the Lt Col's death, Mr Moss was shot dead and Docherty-Puncheon charged with murdering the 21-year-old traveller.
He was on remand late in 2004 when, the court heard, he confessed to killing Lt Col Workman.
In 2006 he was jailed for life for Mr Moss's murder.
But it was not until a second cell mate came forward in December 2007 to reveal details of another confession that the investigation was reviewed, jurors heard.
Docherty-Puncheon was charged in July 2010.
'Village in fear'
Sentencing Docherty-Puncheon, Mr Justice John Saunders said Lt Col Workman had been in poor health and "had neither the capacity nor the opportunity to defend himself".
"It was a terrible crime and people living in that rural community were shocked by the gunning down in cold blood of one of their elderly neighbours," he added.
"Such an event is bound to create feelings of fear among residents which can continue for a long time."
He said the two murders were connected but said none of the reasons for Lt Col Workman's murder had "been proved to my satisfaction".
Det Supt Bill Jephson praised Lt Col Workman's family after their traumatic ordeal, which has seen them wait more than eight years for a conviction.
"We pledged we would never give up in this case and they've shown incredible strength, support and resilience throughout," he said.
A statement issued by Lt Col Workman's family in Australia said: "Riley was a loving and loyal man who is remembered fondly by all his family and friends.
"Since his murder, we have struggled to come to terms with how someone could so brutally kill another human being, particularly a defenceless 83-year-old who was so frail and desolate at the loss of his beloved wife."