Col 'Riley' Workman: Who was the mystery 999 caller?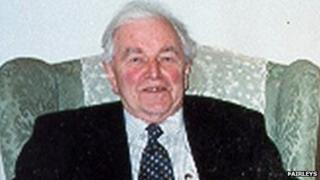 As Lt Col Robert "Riley" Workman lay shot dead in the doorway of his home, a man rang for an ambulance. Police believed he could hold the key to the murder, but he has never been identified. So just who was the mystery caller?
Shortly before 05:00 GMT on 8 January, 2004, a man went to a phone box in the Hertfordshire village of Braughing and called 999.
He did not explain the reason for his call or identify himself, but simply requested an ambulance, gave an address in a village three miles away, and hung up.
An ambulance was sent out, but the crew could not find "Hollycock Cottage" and as no one flagged them down, the call was believed to be a hoax and they left.
It was not until some hours later that the 999 call took on greater significance.
'Piece of jigsaw'
Josette Swanson, the carer of World War II veteran Lt Col Workman, arrived at his home at Cock House, previously known as Hollyhock Cottage, in Furneux Pelham.
She found the 83-year-old had been shot dead at point blank range on his doorstep.
The mystery caller from hours earlier became the focus for Hertfordshire Police investigating a murder which seemed to have no motive.
They urged the man to come forward and help with their inquiry.
What had he seen or heard, and what could he tell police? Why had his call ended so abruptly, with him giving so little away?
A recording of the call was released to the media, with Det Supt Richard Mann saying at the time that it "might provide the final piece of the jigsaw for someone who may have suspicions about another person".
Speech analysts listened to the phone call, which lasts just a few seconds, and placed the man in his late 50s or early 60s with a rural, possibly Hertfordshire accent.
They also said the voice was not disguised and that it would be identifiable to those who knew him.
When asked for the address, he said Hollyhock Cottage, but spelled out the name as Hollycock and Furneux as Furneaux, adding "that's near Buntingford".
Listed in phonebook
Hollyhock Cottage had not been used for 24 years because Lt Col Workman had changed the name to Cock House.
However, it was still listed in the phone book as Hollyhock Cottage - a name his late wife, Joanna, favoured.
Police believe Lt Col Workman was probably shot between 20:00 and 20:30 GMT, as neighbours reported hearing shots and it was unlikely that he would have answered the door in the early hours.
More than six years later, in 2010, police charged Christopher Docherty-Puncheon with murder.
A jury has heard the then 24-year-old had worked as a pest controller for the colonel and drove a Range Rover with the number plate N50H0.
One motorist, Gary Chambers, told the court how, shortly after the killing, he saw a Range Rover and noticed part of the number plate spelt "SOHO".
Lorry driver John Wilson also said he had been driving through Braughing when he noticed a four-wheel drive vehicle with its headlights on, parked near a phone box.
But to this day, the man has not been identified - and as Docherty-Puncheon has been convicted of murder, the mystery may never be solved.