Bedfordshire PCC election: Candidates clash over cuts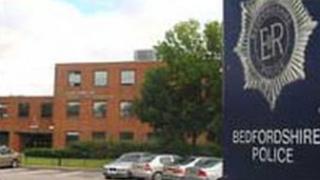 Candidates for the post of police and crime commissioner (PCC) for Bedfordshire have clashed over cuts to the force.
In 2012-13, Bedfordshire Police had a budget of £100.6m, of which £31.6m came from council tax revenue.
Like the rest of the public sector, Bedfordshire Police is facing reduced funding, with a budget cut of £19m (about 20%) between 2011 and 2015.
In March this year, police announced 28 redundancies among civilian staff at the force. More jobs could go in the future.
British Freedom Party candidate Kevin Carroll said: "The cuts are terrible. I think it is the one place they should not make cuts, cuts to vital services. You need to offer the best force you can to the public. It is cutting it to the bone, it's not going to make a better police force.
"I would look to make savings in the backroom services and look at bringing in volunteers to help with the paperwork - which is a complete waste of time for police officers."
Liberal Democrat candidate Linda Jack said: "My own view is that the cuts are completely unacceptable. Whoever takes over has to tackle the government on this.
"The most important role of the police is to protect its citizens, cutting police is a mistake. I will be fighting hard against cuts. It's a crude measure to just cut 20% from all forces."
'Retrograde step'
Olly Martins, the Labour candidate, said: "I think the cuts are a very retrograde step on policing. Visible neighbourhood policing is disappearing.
"Now 80% of the police budget is spent on police staff salaries or pensions. When you are forcing through 20% cuts there is very little room for manoeuvre apart from cutting police strength. It is so important to send the government a message on police cuts."
Rashid Menazur, an independent candidate, said: "We are in a difficult situation, the British and world economy is not in a good shape. I will fight against cuts. But it is also about minimising the effects of cuts as much as is possible.
"This is a dual role of crime and police commissioner, so we have to look after crime as well as police. In crime, my priorities are to cut crime and drugs are often a route into crime."
Conservative candidate Jas Parmar said: "People are disingenuous when they talk about 20% cuts as 12% of the cuts have already been achieved.
"A good manager can always do more for less. As far as any future cuts are concerned, we will cross that bridge when we come to it."
He said savings could be made by sharing administration costs between neighbouring police forces.