Bedfordshire PCC election: Candidates pledge support for victims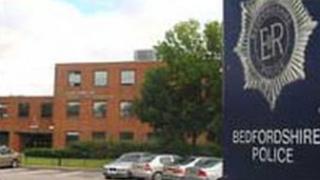 Candidates for the post of police and crime commissioner (PCC) for Bedfordshire have pledged to put victims at the centre of their work if elected.
Much of the national funding for the help of victims and the organisation Victim Support is due to be devolved to the commissioner offices overseeing the work of the 41 police forces across the country.
British Freedom Party candidate Kevin Carroll said support for victims and witnesses was vital.
"Victim Support volunteers do a great job in our area," he said. "One of my main things is to put victims a long way before criminals and I want to put the needs of victims a lot higher."
Liberal Democrat candidate Linda Jack said: "I would want to work with Victim Support and look at any weaknesses and look at what their recommendations are.
'Essential to society'
"There are lots of organisations working with victims and one role of the PCC is to get them working together collaboratively."
Olly Martins, the Labour candidate, said: "I used to work for Victim Support and think they are a very important organisation.
"They have a wealth of expertise. It would be a tragedy if the result of devolving funding meant we lost that wealth of support."
Rashid Menazur, an independent candidate, said: "This is key work which is essential to society. I will look after these bodies so they can comfortably and effectively do their job."
He said he would ensure local charities helping victims would work together and in co-operation with victim support.
Conservative candidate Jas Parmar said he was pledged to support victims and make the police more victim-focused.
"I will engage with the public to ensure that they play an active role in policing in their local areas and will keep them and victims of crime informed of the progress made to combat crime," he said.