Bedfordshire PCC election: Candidates look to visible policing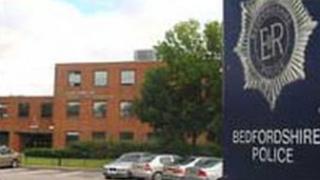 Candidates for the post of police and crime commissioner (PCC) in Bedfordshire are looking for ways to get more police on to the streets.
Bedfordshire is one of the smallest police forces in England. The county includes rural and urban areas and has a population of about 600,000 people.
Bedfordshire Police has about 1,200 officers and 124 police and community support officers (PCSOs), supported by more than 200 volunteer special constables.
More than 900 other staff, supported by 90 volunteers, also assist the police.
Like the rest of the public sector, Bedfordshire Police is facing reduced funding, with a budget cut of £19m (about 20%) between 2011 and 2015.
'Visible policing'
British Freedom Party candidate Kevin Carroll said: "One of my main things is to put more bobbies on the beat. When I grew up in the 80s, bobbies were prolific, there was a dozen or so police houses in the area.
"They knew all the people and the people had a real relationship with them."
Liberal Democrat candidate Linda Jack said: "We need more research on whether having a bobby walking up and down a street does deter crime.
"I think where PCSOs are good is that they are a route into the proper police service and seeing it as a stepping stone has some value."
Labour Party candidate Olly Martins said: "I would like to get back to more visible policing, but it is very difficult at a time of budget cuts.
"One of the things I'm looking at is a model of co-funding where local authorities or town councils co-fund PCSOs with the police."
Independent candidate Rashid Menazur said: "I have talked about the need for bobbies on the beat. I would put more police on the streets. The public must feel safe.
"Officers on the beat know their locality, local people will know them and know that they are looking after us."
Conservative candidate Jas Parmar said: "I will encourage recruitment of special constables and I will allow parishes and villages to retain visible policing.
"I have lived in a village for 25 years and have seen offences like fly tipping, vandalism, anti social behaviour, and theft. I will ensure that rural Bedfordshire is not neglected and disproportionately disadvantaged."