Watford search for river fall man Kevin Wilkinson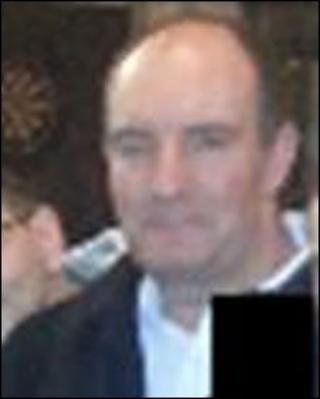 A 50-year-old man has gone missing after falling into a river in Hertfordshire.
Kevin Wilkinson was walking with friends along a towpath near Wiggenhall Road in Watford at about 04:00 GMT when he stumbled in.
His friends lost sight of him in the darkness and fog, police said. Fire crews did not find him when they searched the waist-deep water.
Mr Wilkinson is 5ft 9in (1.75m) and of heavy build, police said.
He is balding and has tattoos on his forearms, including one of the Spanish national flag on his right arm.
He was wearing a black jacket, white shirt, blue jeans and white trainers.
The East of England Ambulance Service said it had sent a local ambulance crew and its hazardous area response team at 04:25 GMT.
It stood down at 10:30 GMT, when the incident was handed over to police, a spokesman added.
Mr Wilkinson is from Homerton, east London.