Barbados rapes: Diane Davies defends Derick Crawford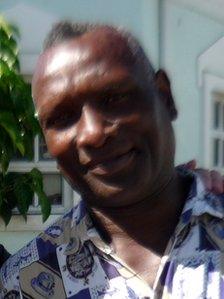 One of two women, who are convinced the man accused of raping them in Barbados is innocent, has given evidence before a magistrate.
Dr Rachel Turner, from Hertfordshire, and Diane Davies, of Valley, in Anglesey, north Wales, were attacked within days of each other in 2010.
Barbadian Derick Crawford, 47, has been charged with the attacks, but the pair are certain he was not the rapist.
Mrs Davies gave evidence before a magistrate in Holetown on Friday.
She told the court Mr Crawford is "not the man that raped me".
Mrs Davies told the BBC that at the hearing, where press and public were excluded, she said Mr Crawford was "the wrong age and the wrong build".
She added: "He is not the man. For 18 months I have been saying that. I have been totally ignored by the police."
Dr Turner had also hoped to give evidence but the case has been adjourned until 13 December.
Mrs Davies said she was pleased to have been able to give evidence as she is due to return to Wales next week.
"I was delighted to be able to stand up there and give evidence. They have the wrong man," she said.
Dr Turner and Mrs Davies earlier said they were concerned that while the Royal Barbados Police (RBP) continue to support the prosecution of Mr Crawford, the real rapist is free to attack again.
The two women, who have waived their right to anonymity, say Mr Crawford looks and sounds nothing like the man who attacked them in Holetown St James.
Dr Turner, 30, who grew up near Letchworth, Hertfordshire, and holds a research post at the University of the West Indies, was attacked as she walked along a path to the beach in October 2010.
Two days later 63-year-old Mrs Davies, who was on holiday, was assaulted in the same area.
The prosecution case against Mr Crawford appears to be relying on a confession from Mr Crawford which has since been retracted.
Mr Crawford's defence is being funded by Hilary Heath, a former actress and campaigner for better treatment for rape victims in Barbados.
RBP Police Commissioner Darwin Dottin said in a statement: "The team of investigators who were tasked with investigating these assaults are firmly of the view that the evidence strongly supports the decision to arrest and charge Mr Crawford.
"The Royal Barbados Police Force has an excellent reputation in the law enforcement community and is highly regarded.
"This is not to say that we never make mistakes. On the contrary, on such occasions it is our policy to admit our failings."