Government allows Bedford Free School to stay open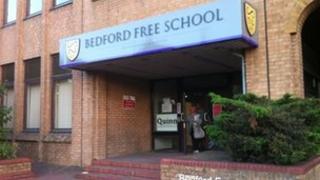 A free school in Bedford which opened despite not having planning permission, can stay open, the government says.
Bedford Free School opened in September with nearly 200 pupils, despite council concerns about traffic congestion.
Its decision to refuse planning permission for change of use on road safety grounds has now been over-ruled.
A school spokesman said they were "absolutely delighted", but the council has called the Planning Inspectorate's ruling a "political decision" .
The school, for pupils aged 11 to 13, was due to open in September 2011 but was delayed by a lack of premises.
A former Bedford College building in Cauldwell Street was found, but Bedford Borough Council decided letting a school open opposite the college would cause too much disruption.
The council then rejected a second planning application which attempted to address earlier concerns about traffic problems.
School 'vindicated'
The school lodged an appeal with the government's Planning Inspectorate, which decided that pick-up and drop-off activity "would not adversely affect the free flow of traffic ....or be detrimental to highway safety".
Principal Mark Lehain said the school was "absolutely delighted" and called the ruling "a great decision for parental choice".
He said the school had maintained throughout that the building was suitable and it had agreed a travel plan with council officers to ensure student safety.
"We have been vindicated in that both the planning inspector who carried out the independent appeal and the Secretary of State for Communities and Local Government agreed with what we have said all the way along, which was in total agreement with the council's own experts," he said.
Councillor David Sawyer, who is responsible for education at the council, said the government's decision came as "absolutely no surprise".
"This is a political decision where the education policies of the current Conservative government, who are very, very keen on free schools, have taken priority over the safety of the children," he said.
He added that they would look into the possibility of an appeal but there was a "cost concern."