Barbados rapes: 'No DNA link' to Hertfordshire woman's rape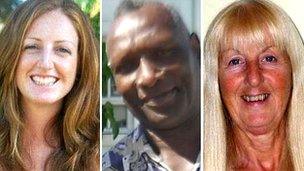 A Hertfordshire woman, due to give evidence in a court in Barbados to help clear a man accused of raping her, says prosecutors have told her there is no DNA evidence linking him to the crime.
Dr Rachel Turner, 30, says Barbadian Derick Crawford, who police say committed the 2010 rape, is innocent.
Dr Turner and Diane Davies, of Valley, in Anglesey, north Wales, were attacked within days of each other in 2010.
A preliminary court hearing in Holetown St James is due to hear her testimony.
The two women, who have waived their right to anonymity, say Mr Crawford looks and sounds nothing like the man who attacked them in Holetown St James.
Dr Turner, who grew up near Letchworth, Hertfordshire, and holds a research post at the University of the West Indies, was attacked as she walked along a path to the beach in October 2010.
Two days later 63-year-old Mrs Davies, who was on holiday, was assaulted in the same area.
Mr Crawford's solicitor Andrew Pilgrim told the BBC that police have told him in relation to Dr Turner they found "no DNA of any other person" and there was "no possibility of a match to Derick Crawford".
He said police have told him they have not yet got back DNA evidence in relation to Mrs Davies' attack.
Dr Turner said she did not understand why the tests on the forensic evidence gathered after Mrs Davies' rape had not been completed.
"I can't see why they would have mine back and not hers when they were taken two days apart," she said.
Last month Mrs Davies gave evidence before a magistrate in Holetown. She told the court Mr Crawford is "not the man that raped me".
Royal Barbados Police Commissioner Darwin Dottin said in a statement: "The team of investigators who were tasked with investigating these assaults are firmly of the view that the evidence strongly supports the decision to arrest and charge Mr Crawford."