Parents name baby girl after The Bell pub in Benington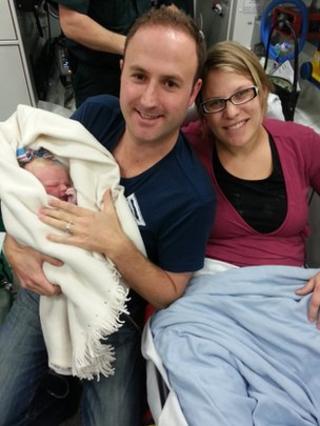 A baby who was born in a pub car park has been named after the venue.
Lisa Barnaby, 33, gave birth to her second daughter on the back seat of the family car outside The Bell pub in Benington, Hertfordshire.
She and her husband Gavin, who helped to deliver the baby, named the newborn Bella.
The couple, from Ware, were on their way to hospital when they got stuck in traffic and stopped at the pub to call an ambulance.
Earlier that day, on 19 November, a midwife had told Mrs Barnaby she would give birth in the next 48 hours, but she began to have contractions on her way home 30 minutes later.
They left their home in Rockfield Avenue at 18:00 GMT to make their way to the Lister Hospital in Stevenage, but became stuck in traffic on the A602 and stopped at the pub after taking a detour.
'Complete denial'
Mrs Barnaby said: "My waters broke... my husband had the presence of mind to put a picnic blanket down on the back seat. I think he was focussing on practical things."
Mr Barnaby, 35, went into the pub to call the ambulance service.
He said: "I didn't think the baby was coming, I just thought I would get an ambulance and it would take us away.
"I was in complete denial."
During a 12 minute call to the ambulance service, Mr Barnaby delivered the baby's head, with paramedics taking over when they arrived.
Mrs Barnaby said her husband had "stepped up to the plate" for the birth of the 7lb 8.5oz baby in their Vauxhall Zafira.
'Magical night'
Mr Barnaby said naming their new baby after the pub was a good way of capturing Bella's birth.
He said: "It will always be a reminder of that magical night."
Pub landlady Tracey Reading and barmaid Steph Birnie were on hand with towels and blankets.
Ms Reading said the car park birth was something she would never forget.
"It got the adrenalin going on a really cold night... I hope it's not something that's repeated in the car park too often," she said.
East of England Ambulance Service spokesman Gary Sanderson said: "Both Ian and Del, the Stevenage paramedic crew who attended the scene, commended Gavin for his excellent midwifery skills on the day.
"If Gavin, Lisa and baby Bella are ever passing by Stevenage Ambulance Station, please pop in to see the crew as I am sure they would love to see you all again."