Beds, Bucks and Herts snow: Schools and travel affected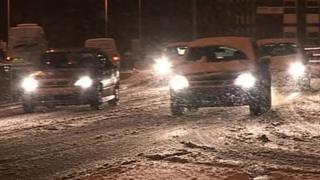 Snow has been causing disruption in Bedfordshire, Hertfordshire and Buckinghamshire, leading to school closures and dangerous road conditions.
Luton Airport's runway was closed for a short time but reopened at 08:00 GMT.
The airport said it was open but adverse weather could cause delayed or cancelled flights. Passengers are advised to check with their airline.
The A505 was blocked between Hitchin and Letchworth when 12 vehicles got stuck in snow.
Two schools have been closed in Hertfordshire.