Dementia patient wrongly receives £29,289 care bill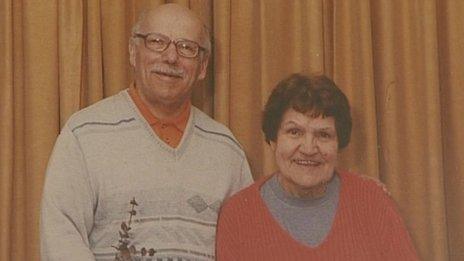 A 75-year-old man from Bedfordshire said he "nearly had a heart attack" when he wrongly received a bill from the council for £29,289.
Ken Lynch, from Sandy, said the invoice from Central Bedfordshire Council stated he had 14 days to pay the money for his wife's nursing home care.
"I have been paying the bill each month," he said. "It is absolutely unbelievable and sheer incompetence."
The council has apologised for any "anxiety" caused by the mistake.
The letter was addressed to Mr Lynch's 82-year-old wife, Audrey, who has a form of dementia and has lived in a nursing home since August.
Mr Lynch, a Sandy town councillor, said he had "religiously" settled the monthly bill.
"I spent an hour and a half on the phone trying to get through to someone to find out what was going on," he said.
"When I finally did they told me it had been a mistake.
"Fortunately I knew how to deal with the council, but what if they had sent to somebody else who was frail?
"It could have finished them off. Finances for elderly people is a very big worry."
Mr Lynch said he wanted a "full apology" in writing and an inquiry into how the mistake was made.
A spokesperson for Central Bedfordshire Council said: "We can confirm that the invoice was sent to Councillor Lynch in error and we have since apologised for any anxiety this might have caused to him and his family."
Related Internet Links
The BBC is not responsible for the content of external sites.