Donkeys taken in by primary school yet to be claimed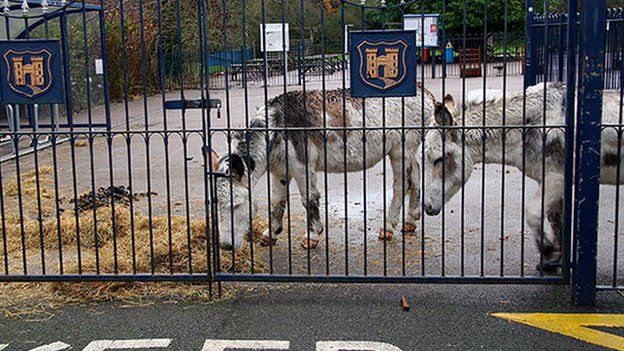 Two stray donkeys that took refuge at a Hertfordshire primary school after being seen wandering on a nearby road are set to get a new home.
The animals spent the night at Little Heath Primary School in Potters Bar two weeks ago before being taken into care.
They are being kept in a refuge after their owners failed to come forward.
The Donkey Sanctuary charity said it would provide a home for the pair, nicknamed Mary and Joseph by pupils, for the "rest of their days".
The donkeys were spotted on a road near the primary school and given shelter overnight - providing a surprise for children the next day.
"The pupils thought it was great," a spokesperson for the school said.
"Some people thought they were for the nativity play."
Emma Gill, from the Devon-based Donkey Sanctuary, said there had been an increase in the number of donkeys being taken into care.
"Many of these donkeys will have come from loving homes who are no longer able to care for them - the owners may have had to downsize, may be having financial difficulties or may be prevented by ill-health from continuing to care for their animals," she said.
The animals are currently at the Escape Animal Sanctuary in Brentwood and said to be "very happy" and "mischievous".
Trustee Jayne Lewis said they were, however, "full of parasites".
"I can't believe anyone would dump these wonderful animals," she said. "We'll look after them until they're taken to the Donkey Sanctuary."
Ms Lewis said it cost about £10 a day to feed a donkey during winter, when the animals need to eat "twice as much" and grass is scarce.
Unless anyone comes forward by the end of Tuesday, ownership of the animals will be transferred to the Donkey Sanctuary.
Related Internet Links
The BBC is not responsible for the content of external sites.